What is ASONGE?
Through ASONGE, which comes from the IsiZulu word meaning "let us save", Black investors were enabled to own a part of South Africa's economy. From 23 July to 16 August 2007, investors could buy MTN shares from any outlet of the South African Post Office at a 20% discount to the share price of MTN shares on the Johannesburg Stock Exchange. Over and above this, investors automatically became eligible to earn a bonus share at the end of the two years for every ten shares still held.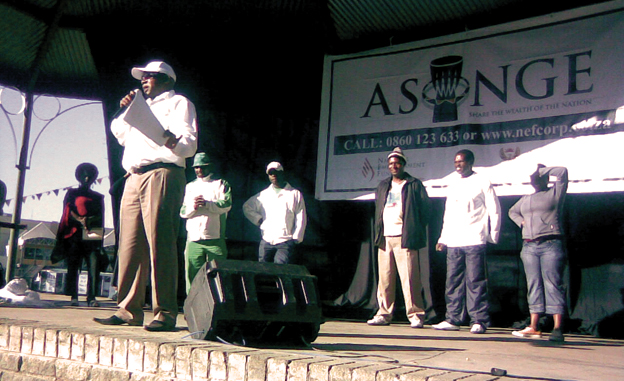 ASONGE was launched in the presence of the Deputy President, the Hon. Ms Phumzile Mlambo-Ngcuka, at an event witnessed by diplomats, stokvels and community investment groups, the Minister of Trade and Industry, the Hon. Mr Mandisi Mpahlwa, as well as the Premier of the Western Cape, the Hon. Mr Ebrahim Rasool, MECs, leaders of the public service, captains of industry, including MTN Group President and CEO, Mr Phuthuma Nhleko, representatives of civil society, among many others.
Who could invest?
This offer was open to all Black people and savings and/or investment groups such as stokvels, burial societies, trusts, co-operatives, church savings groups and many others.
How much money could be invested?
The minimum investment amount for an individual or a savings and/or investment group was R2 000. Individuals could invest a maximum amount of R50 000 and savings and/ or investment groups, a maximum of R100 000.
Public education on saving and investment
In order to promote public education on saving and investment among the masses, the NEF embarked on a national Roadshow to every province, often joined by leaders such as the KwaZulu Natal MEC for Finance and Economic Development, the Hon. Dr Zweli Mkhize, and the Western Cape MEC for Environmental Planning and Economic Development, the Hon. Ms Tasmin Essop.
Among other initiatives, the education and mobilisation campaign achieved the following:
Mobilisers touched 10 000 groups and 150 000 individuals through one-on-one education efforts,
Collaboration with Stokvel associations,
Further education around investing and financial markets was done through TV and radio, features and drama,
A dedicated Call Centre assisted with all queries in all languages,
Print and electronic advertising in all languages, as well as outdoor advertising inside and outside taxis on all major national and local routes,
News coverage value estimated at R7.7 million,
Over 1 million leaflets and posters distributed nationwide at Post Offices and street corners,
Thousands of people were reached by 9 regional road shows, with KZN and the Free State exceeding expectations with multitudes attending the Roadshows.
ASONGE Dates
Opened on 23 July 2007
Closed on 16 August 2007
Results announced on 27 September 2007