Introduction
A unit of the NEF established with a mandate to increase the participation of black people in early-stage projects.
Aligned to national Government policy.
Seeks competitive opportunity for the South African economy and the inclusion of black participation in opportunities at the outset of projects, as opposed to doing so during equity closure.
SPF's sector focus is informed by the government's strategies on industrial development through the dtic's National Industrial Policy Framework, the corresponding Industrial Policy Action Plans [IPAP] as well as the current government economic growth strategy, the New Growth Path. The sectors identified based on the IPAP and the New Growth Path and are listed as follows:
Agriculture
Business Process Outsourcing [Call centres, data storage centres and termination centres]
Textiles
Mining, Mineral Processing and Mineral Beneficiation
Automobiles
Renewable Energy and Biofuels [solar, biomass, hydro, co-gen and wind]
Plastics
Pharmaceuticals and Chemicals
Forestry, Pulp and Paper
Infrastructure [telcoms, healthcare, roads, rail airports, dams and water]
Manufacturing
Tourism [hotels, resorts, tourism attractions and leisure]
The list above is a guideline, and SPF will evaluate each project based on its economic merit and ability to deliver on the Development Mandate.
In the quest to expedite B-BBEE participation not only in small and medium enterprises and existing businesses through acquisition of equity interest in well established businesses but also participation in new sector industries which have been built from the ground, the NEF established the Strategic Projects Fund (SPF).
The SPF is at the centre of NEF's investment strategy when it comes to securing the participation of black people in early stage projects. Its core function is to provide Venture Capital Finance aimed at developing South Africa's new and strategic industrial capacity within strategic sectors identified by government as key drivers to economic growth.
It all began with a simple strategic question; "How is the NEF going to secure the participation and empowerment of black people in strategic sector projects that are at an early stage?" This required
NEF to develop a fund that would become a pioneer in providing Venture Capital Finance that would seek to provide seed capital for feasibility studies.
This fund would embody NEF's truest sense of achieving its developmental finance objectives, most importantly securing the participation of black people.
To date that question is being answered and the NEF through SPF takes a leading role and has become the face of B-BBEE in future strategic companies. Established in 2008 as a division within the NEF, the SPF's mandate is to play a central role in early stage projects by identifying, initiating, scoping and developing projects that are in sectors identified by government as key drivers to South Africa's economic growth. These projects will be taken through 6-stages of project development.
The phases being the following: Scoping and Concept Study; Pre-Feasibility Study; Bankable Feasibility Study; Financial Closure; Construction Phase; and Technical Completion.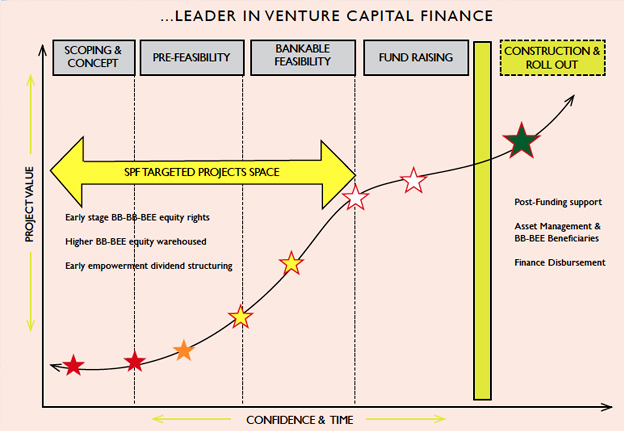 Strategic Projects Fund – Development and Economic Impact
Creation of new manufacturing and industrial capacity
Creation of new jobs as opposed replacement capital finance
Investment of new fixed capital into economically depressed areas or poverty nodes
Creation of an inclusive economy by increasing black South African participation in early-stage projects
Increase RSA export-earning potential and reduce import dependency
Increase co-investment and linkages with foreign direct investors